Thousands of Youth Worldwide Take Part in Climate Strike
www.wunderground.com/cat6/Thousands-Youth-Worldwide-Take-Part-Climate-Strike
The biggest one-day protest by schoolchildren in memory—and the largest day of climate action in history—cascaded across the globe on Friday. According to 350.org, a total of more than 1.4 million students in more than 300 cities and 100-plus nations took part in Friday's #climatestrike protest. Many thousands of U.S. students walked out of classrooms for 11 minutes, starting at 11 am at each time zone. In many locations around the world, the protests were massive and more prolonged. More than 10,000 young people gathered in Copenhagen on Friday (see embedded tweet below), and tens of thousands took to the streets of Montreal.
The strike was inspired by Greta Thunberg, the 16-year-old Swedish student who has become a global spokesperson for the myriad threats that human-produced greenhouse gases pose to future generations. Thunberg (who has now been nominated for the Nobel Peace Prize) ignited the climate-strike movement with her own series of solo protests at the Swedish Parliament starting on August 20, 2018. Subsequent climate strikes gathered stream as they spread across Europe and beyond. By the end of 2018, the strikes had already involved more than 20,000 students.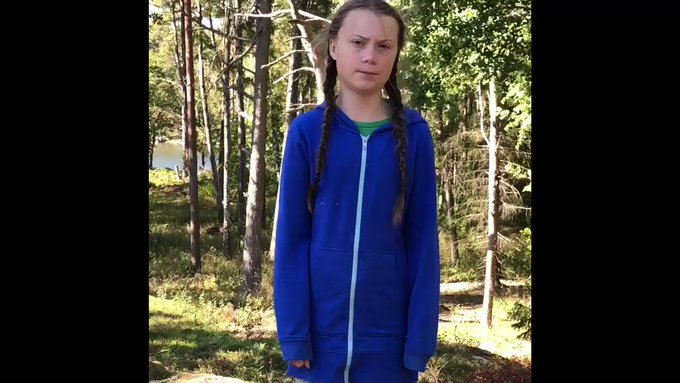 Fridays for future. The school strike continues! #climatestrike #klimatstrejk #FridaysForFuture30K12:55 PM – Sep 16, 201812.8K people are talking about thisTwitter Ads info and privacy
What does social justice have to do with greenhouse gases?
Many of the organizers and participants from #ClimateStrikeFriday stressed the interwoven nature of climate change and social justice. For one thing, the impacts of greenhouse gas emissions propagate far and wide from those who produce and consume the most fossil fuel. The small island nations whose very survival is at stake contributed very little to the atmosphere's greenhouse burden.
It's widely recognized that marginalized and vulnerable populations tend to take an outsized hit from climate change, as they have fewer resources and less political power. Reducing greenhouse emissions will help alleviate this injustice—but it's also possible that even some well-meaning actions to address climate change could themselves create or exacerbate inequities (such as forcing low-income people to move out of flood-prone coastal neighborhoods without taking their needs and community ties into account). That's why the Green New Deal and other high-profile proposals are stressing the need to keep equity in the forefront while tackling this massive global problem.
Thoughts on Friday's climate strike
"Young people make up more than half of the global population. Our generation grew up with the climate crisis and we will have to deal with it for the rest of our lives. Despite that fact, most of us are not included in the local and global decision-making process. We are the voiceless future of humanity. We will no longer accept this injustice. We demand justice for all past, current and future victims of the climate crisis, and so we are rising up." —Open letter from the global coordination group of the youth-led climate strike (Guardian)
"By taking to the streets today to make their voices heard, young people are educating us about how important tackling climate change is to their generation. They are right to be worried about what kind of planet they will inherit and right to demand far-reaching action. Governments cannot sit back, leaving major decisions to market forces. It hasn't worked and it never will." —Jeremy Corbyn, UK Labour Party Leader (Guardian)
"The students who are striking in cities, towns and villages around the world are uniting behind the science. We are only asking that our leaders to do the same. If those in power today don't act, it will be our generation who will live through their failure." —Greta Thunberg, Anna Taylor, and others (Guardian)
"I'm here because I think we should have done something 10 or 20 years ago. But luckily the world is waking up. The more people here, the better the impact." — Anamaria Vaga, a 19-year-old student in Brussels (New York Times)
Read the full article here: www.wunderground.com/cat6/Thousands-Youth-Worldwide-Take-Part-Climate-Strike